How to install wordpress
First you need to install xampp on your system if you need guidance for the same please see our xampp installation tutorial
How to Create a Database for Your Local WordPress Installation
In your XAMPP information page, you will see a link to phpMyAdmin. Clicking on the link will open up phpMyAdmin and allow you to manage your databases. Alternatively, you can visit phpMyAdmin directly by entering http://localhost:XX/phpmyadmin/ into your browser.
Again, XX refers to the port your XAMPP installation uses. For me, the direct link to phpMyAdmin was http://localhost:88/phpmyadmin/. If you are using port 80, the URL for phpMyAdmin should be http://localhost/phpmyadmin/.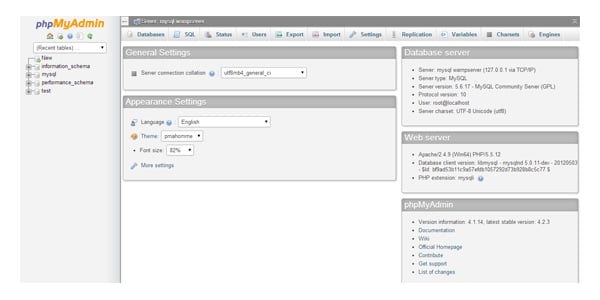 At the top of phpMyAdmin, you will see a tab named "Databases". If you click on that tab, you will see an option to create a new database. You can call your new database whatever you like.
You will receive confirmation that your database has been created. You will also see it listed in the database tree in the column at the left hand side of the page.
You may have noticed that we have not created a database user and password. We don't actually have to complete this step as we can use root for our database username and leave the password field blank.
It is also worth noting that your database name is not case sensitive. Therefore, in the example above, when I install WordPress, I could enter WordPress-Test, or wordpress-test, as the database name.
Extracting Your WordPress Files
Once you have created your database, you should download WordPress to your computer. Extract the WordPress folder to the htdocs directory within your XAMPP installation directory i.e. C:\xampp\htdocs\.
You can rename the WordPress folder anything you like. For example, you could rename the folder test, blog, or my-website. It is really up to you. When I tested XAMPP,
Installing WordPress Using XAMPP
With WordPress copied to our htdocs directory and a database created for our website using phpMyAdmin, we can now install WordPress. As the WordPress installation folder is named WordPress, the WordPress website will be located at http://localhost:XX/wordpress/. For my installation, the URL is http://localhost:88/wordpress/. If you were to use port 80, you could access it directly at http://localhost/wordpress/.
When you load up your website at the address noted above, you will see a message stating that there is not a wp-config.php file.
It does not matter which method you use, as they will both create a wp-config.php configuration file that will connect your WordPress core files to your WordPress database.
Creating the wp-config.php file through the installer is easy. The installer also verifies that your connection details are entered correctly.
There are five fields to complete. The database name is the name of the database you created through phpMyAdmin earlier. If you recall, I named my database WordPress-Test (I can also enter this in lowercase). You should enter root as your database username and leave the password field blank.
Leave the database host field as localhost. The last field is the prefix you want to add to your WordPress database tables. The default value is wp_. From a security point of view, it is normally better to change this value to make it more difficult for hackers to access your website. However, as your website will only be accessible locally on your computer, I do not believe there is a high risk of this occurring; therefore, I do not think there is any harm with keeping wp_ as the database table prefix.
If your connection details were correct, you will then see a page advising you to run the WordPress installer. At this point, your WordPress installation directory will have a wp-config.php configuration file with the correct connection details.
Once the wp-config.php configuration file has been created, you can install WordPress. You have to enter website details such as the site title, your administrator username and password, and your email address.
The next page confirms that WordPress has been installed and displays a button to log in to your newly created website.
Next, log in to your new website using the username and password you just defined.
That's all Enjoy wordpress now