Flutter vs React Native
Nowadays, the cross platform app development has gained popularity as it enables you to develop mobile apps that can be used on multiple mobile platforms. There are numbers of cross platform available today, which are worth comparing.
Today, investing in a mobile app development company that excels in developing a single app that would work on both Android and iPhone, on one Codebase, has become the trendy business agenda.
This 'trendy business agenda' came into the picture when Facebook Launches its "React Native " in technology market. It got an overwhelming response from the app developers. However, last year, Google has also launched its SDK (Software Development Kit) – Google Flutter that helps to create cross platform apps with ease.
React Native is something which was introduced by Facebook in 2015. Till 2018 it has taken the market by storm,like so much of Big Clients it has at its base, so much of freelancing stuff is done over here due to the fact that it provides cross platform app development i.e both on Android and iOS environment.
But Now, the other market giant Google is come to the party by introducing Flutter. if you are curious to know about Flutter at beginners level, you can check out my previous blog.  Though in this blog, i will discuss about flutter and react but a level higher .. so do check my last blog.
Flutter
People who knows about the technology market, would surely agree with this fact that Flutter is a standard reply to Facebook's React Native. Ready made widgets(described in my last blog) are there, new features especially on User Interfaces, material designing is there but we will talk on this later..
React Native
React Native , launched by Facebook in 2015 , is one of the most innovative Technologies in Technology world. it was the first framework that  provides mobile developers a luxury to code once for different platforms.
So, the focal point of this article will now being shifted from Need of the market to the "Rivalry of the two best Cross Platform MObile Technologies". So lets the battle begins!!
Flutter vs React Native: Who is Winning?
1.) User Interface [Winner : Flutter]
Proprietary Widget vs Native Component
Both Flutter and React Native have a stark difference when it comes to the building blocks that they use for their UI development. While on one hand React Native taps into native Android and iOS components with the help of third party or custom components, Flutter functions with proprietary widgets that are 100% customized.
These widgets are both in Material Design for Google and Cupertino for Apple.
2.) Native Appearance [Winner : Flutter]
Native look and feel is something that both Flutter and React Native are promoting as their USP. While the performance that is a sign of React Native Development is available for the world to take a peek in and explore, same can't be said with guarantee for Flutter.Although, Flutter with its feature to use device's core functionalities without any third party component, has what it takes to go far in the journey of developing native look and feel apps for iOS and Android.
Flutter offers greater Nativ e Appearance as it access the device's  core functionalities,where as react uses third party Apis hence gives lower native appearance.
3.) App Performance [Winner : Flutter]
Talking of app performance, Flutter takes the crown. It is much faster than its counterpart. Since, there is no JavaScript bridge for initiating interactions with the device native components, the speed of development and running time gets expedited drastically. Lastly, since Flutter is compiled into the native ARM code for both Android and iOS, performance is the one issue that it would never face.
4.) Configuration & Setup [Winner : Flutter]
Flutter's setup process is much more straightforward as compared to React Native. Flutter comes with the provision of automated checkup of system problems, something which React Native misses to a great extent.
5.) Lifecycle Management [Winner: React Native]
Commonly speaking, React Native tends to do a much better work at simplifying the app lifecycle handling and optimization. Flutter only gives you the scope of working with widget inheritance that only allows for stateless and stateful conditions, minus any tools for explicitly saving the application state.
6.) Development Time [Winner: React Native]
The app developers work on very strict deadlines nowadays. Therefore, it becomes a bonus if they opt for a framework that offers shorter development time. So here, React Native has emerged as the winner as it reduces the time of app development. This is one of this biggest USPs.
And how does it provide that comfort to the developers? It has ready-to-use components, which upsurges the speed of cross platform app development. Although Flutter has also promised of high speed app development but it is still to be tried properly.
7.) Industry Adoption [Winner: React Native]
React native being early in market has some fantastic clients in its bank to boast of like Bloomberg, Skype, netflix, tesla, linkedin ,walmart and Facebook's own product like facebook mobile app,instagram
where as, Flutter being new to industry has Clients like Google adwords, Hamilton music and the client which will give brighter future to this Flutter thing is Alibaba's app
8.) Documentation [Sixer by Flutter]
While the chaotic state which React Native documentation is in, is expected from a framework that is heavily open source, but it has a lot to learn from Flutter documentation.
Google is known for its clear, detailed, and well formulated documentation and with Flutter they have continued the expectation.
When you look at the present day comparison of Flutter vs React Native, you will find that Flutter is lagging behind and it is. But the situation is going to change.
Flutter in a very short span of time has started getting all the right traction from businesses, in fact when you look at their Showcase page, you will find that the apps that have been made using Flutter belong to the complex category, which is being used by multiple people at the same time.
Add to this the libraries that they are continuously adding in their portfolio, along with the on point documentation, and you will get a framework that is ready to take on the cross platform world.
In fact, Google itself is not shying away from challenging Facebook on the face.
In case you missed the existence of Flutter in depth documentation for React Native, here's a summarized version.
 Flutter for React Native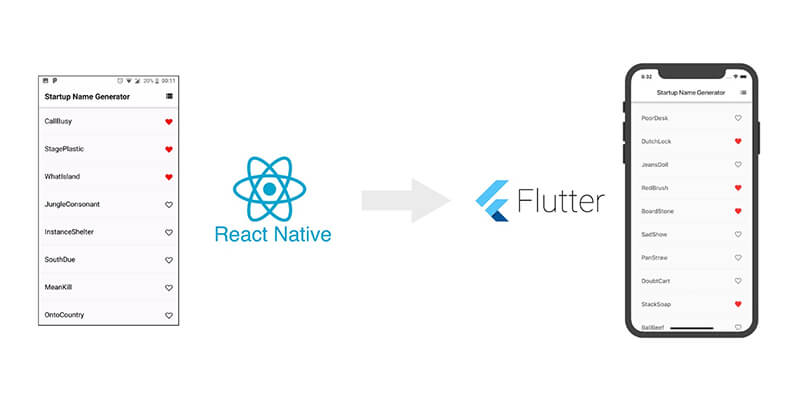 Flutter for React Native is Google's document helping developers apply their present day React Native knowledge in developing Flutter apps.
The document details the Flutter app development process. This link particularly explains the flutter for react native, that page intended to show that any developer who has already worked on the react native can easily switch on Flutter.
The documentation is a clear invitation for the developers community on both iPhone and Android side to deviate from React Native and experience the ease and flexibility of Flutter.
On the face documentation guiding developers to switch from React Native to Flutter is not the only way Google is trying to pass React Native in the race to mass adoption. The move to add Material Theming and Cupertino widget in the cross platform SDK ecosystem has added a whole new punch of expressive user interface into apps developed using the Flutter SDK, something that React Native still lacks and relies on other Design Kits for.
To conclude, while yes, Flutter will take time to surpass the popularity that React Native has gathered over time, but give it time and it will jump right on and off the React Native's user base.
Hopefully you liked this and this article is being understood by you easily .. will upload the next stuff about Flutter soon…
Thanks….